Social tools are very important to generate word-of-mouth publicity: this kind of advertisement is one of the most popular ones, especially on the internet.
To show the world the site you created, aside from the always helpful search engines, there's a variety of social networks you can use to "spread the word" like Facebook, Twitter and Flickr.
This is the reason why with the Sitonline panel you can activate special tools that allow you to integrate in your sites a variety of boxes related to Facebook pages or to Twitter and Flickr profiles.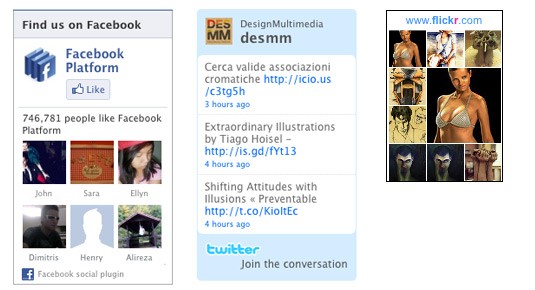 All you have to do is access the setting section of your site panel. In the general settings category, you will find the Social tools section.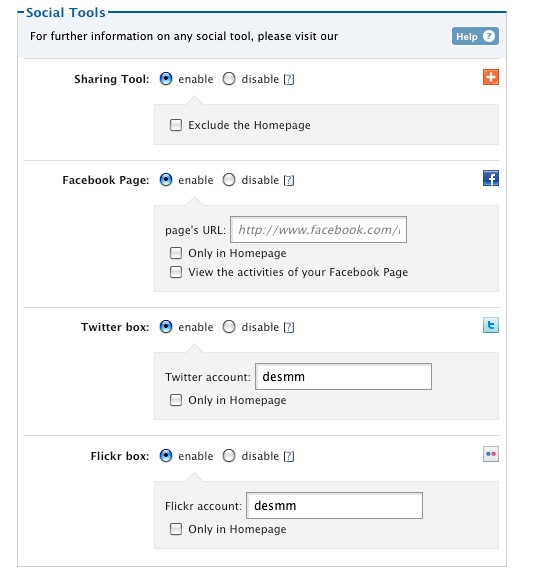 In there you will find the button sharing tool: thanks to this option a keyboard will appear and you will be able to share your site and its pages with the most important social networks.

If you activate the Facebook Page option you will be able to create a box related to a page of the social network, not to a personal profile. In the box, in order for it to work, you have to insert the complete url of the page. You can decide to show this box only in your home page or in every page of your site and you can also decide if you want to show all the activities of the Facebook page.
In the last few years, Facebook as become the most important social network around  the world with over 500 million users and that's why it is a great opportunity for you to promote your business, your band, your organization or whatever you like.
Facebook Pages are used to share information with every user who is connected to them. Pages are for organizations, businesses, celebrities, and bands to broadcast great information in an official, public manner to people who choose to connect with them. Similar to profiles, Pages can be enhanced with applications that help the entity communicate and engage with their audiences, and capture new audiences virally through friend recommendations, News Feed stories, Facebook events, and beyond.
If you represent an organization, a company, a celebrity or you're part of a band, you can create and manage a Facebook page directly from your personal Facebook account or through this link:
http://www.facebook.com/pages/create.php
The Twitter box allows you to insert a window in the sidebar of your site in which you can display all the tweets coming from one account.
All you have to do is insert in the text field the name of the Twitter account, not the entire url of the profile.
By selecting only in home page, the box will be displayed only in the sidebar of that page.
Twitter is a website created in 2006, who offers a microblogging service. Its users can send and read each others tweets. Tweets are basically small posts of up to 140 characters displayed on the user's profile page.
To use this option you have to create a Twitter account through this page:
By activating the Flickr box you can insert in any page of your site a badge of the Flickr account: there you will be able to display the last images uploaded by the user in his/her album.
In this case, for the service to work, you just have to write the name of the account in the proper field. By selecting only in home page, the badge will be displayed only in the sidebar of that page.
Flickr is a multilingual website that allows its users to share personal picture. Flickr also helps you organize your images and offers a funny way for users to comment on them.
To create a Flickr account, go to: