If you decide to add a musical background to your site, press the "Improve the website" button, located on the site's home page.
The options displayed on the right of the window will include an "Add music" section. By clicking on it you will access the area where you can set the musical background for your site.
You will find all you need to configure your mp3 player.
The section comprises:
a selection of music
different sizes for the player
a selection of colours for the player's bar
additional modes
a list of positions where to locate the player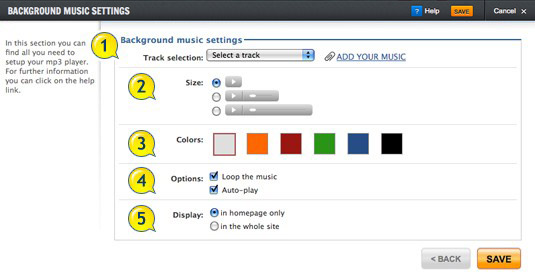 First, select the music (1).  The dropdown menu displays a selection of audio files made available by the platform.  You can also upload a personal track from your computer, by clicking on the "Add music" button.
If you decide to upload a file, it must be in mp3 format, with layer 3 compression and a maximum size of 10 Megabytes.
In the size and colours fields (2 and 3) you can personalize the player that will be displayed on your site.
The "Additional modes" option(4)  allows you to decide many settings for the background music.  Select "Play music in continuous repeat", for continuous audio reproduction, select Auto-play for automatic audio reproduction on opening the page (both these functions are optional).
You can also set the player's display position (5): with this feature you can decide to apply the background music as an introduction to your site (only on the home page, recommended option) or apply it to all pages of your site.
If you later decide to remove the musical background, just return to the "Improve the Website" panel and press the red X next to "Add music".
The background music option could not be used if you have selected a Design TOP.