With Sitonline you can access the html and css and change it anytime you want to match your needs.
To change these codes you have to access the Site panel and click on Edit site and then Change html. On top of the page you'll find a tab to display the CSS code, another one for the meta tags and one for the Head/Body section.
The code can be displayed as a simple text or as a colored code: this second option allows you to identify each tag using different colors, allowing a simplier display of the code itself. To activate or deactivate this option you have to click on the proper botton that you can find on the page: Enable code highlighting (1) or Disable code highlighting (2).
If you have made any change to the HTML code of any page, the Restore the default HTML (3) option will appear: by clicking on it, the platform will automatically reload the original source code of the page deleting any change that the user might have made. The only code that will be reloaded is the HTML one, not the CSS.
We suggest using this "reload" option if you made any mistake trying to modify the HTML code of the page that you are not able to fix.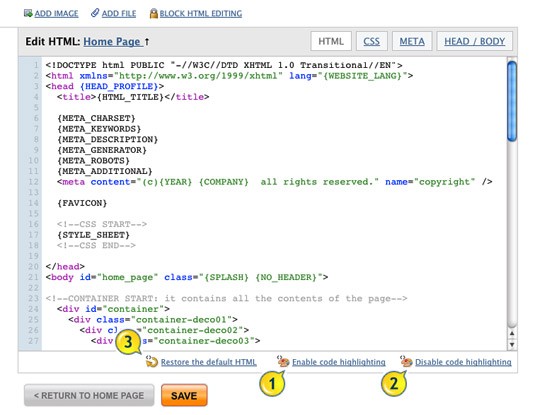 Please note that Sitonline doesn't take any responsability nor supplies assistance if you want to change your site's HTML and CSS codes.