Blue boxes are located in the side columns of the website.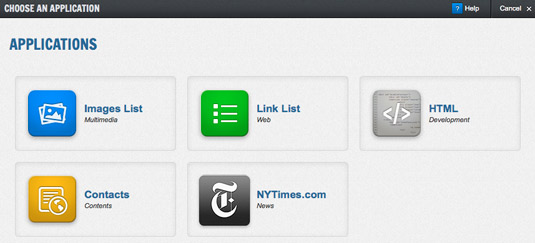 They are positioned on the right or on the left, depending on the template.
You can add up to four blue boxes on each page.
Boxes created in the home page can be modified only from that page, but are displayed on every page of the website.
Boxes created in internal pages are displayed only on those pages in which they have been created.
A maximum of eight boxes can be uploaded in the internal pages:  four from the home page plus four in every page.
To add a blue box, click on the blue [+] icon.
1. There are two types of contents that can be uploaded in those boxes: lists of images or lists of links.
These two types cannot co-exist in the same box.
2. After selecting the type of content you are about to upload, click on "Proceed".
To load a list of images, use the "Box Title" field (not obligatory) and select the images you want to insert.
When you press "Add an image to the list", you will enter the list of your personal images and our gallery.
After selecting the images, select the type of link and, if desired, add a description.
You can always edit, delete or add new images at any time.
If instead you choose a list of links, you will find the following fields:
Box title: this will be the name that appears at the top of the blue box, but does not necessarily have to be used.
Link text: this will be the name of the link that appears in the box.
Type of link: if it is an internal link to the site, select "link to internal page", otherwise select "external link to the site".
Link: In the case of an internal link, select the internal page to which you must point from the dropdown menu; otherwise paste the link in the external link field.
Select if the link should open up in the same window or in a new one.
After clicking "Add link to the list" you will be able to insert another link.
Here again you can edit, delete or add new links.
To edit a blue box, click on the pencil icon.
To delete a box and all its contents press the red [X] icon.