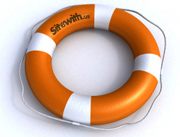 In just a few simple steps, Sitonline enables you to create an internet site that you will able to update as often as you like during your subscription period. All this is possible without knowing any of the programming languages.
The panel to manage the site is a CMS (Content Management System) and is always accessible from our site's home page. The CMS interface is extremely user-friendly and intuitive and enables customers to edit their own sites dynamically and totally on their own.
Sitonline's asynchronous mode allows customers to make changes on their website and previewing them, before they will be published online. All you have to do to go online with those changes is to press the "Publish" button.
Expert users, if they want, can also modify the site's source code to make particular changes to their sites. They can do so by entering a dedicated section of the website panel.
In this guide you will find all the information on how to manage our panel and how to use all our other services. Thanks to this guide you will be able to take advantage of all the features we have and make the best site possible, full of content and always up to date.
If you can't find what you're looking for in our guide, just enter the keyword in the "Search" field.