Sitonline gives everyone the opportunity to take advantage of a 10 day free trial of the service. During this period you can create a website, edit it to your liking and see it on line on the web.
During the trial period there is no limitation to use of the platform as in the service offered after purchasing the package.
To create a trial website, just access the Sitonline home page and press the yellow "Create your website" button (free 10 day trial).  A page giving details of the three subscribable packages will appear (Start, Professional and Premium) enabling you to compare the potential of the various subscription options and choose the one that best suits your requirements.
You can create a "trial" website only with the Start and Professional packages, by clicking on the corresponding green "Free Trial" button.  If you opt to purchase the Premium package you can create a trial website using one of the other two subscription options and choose the required package at the time of purchase.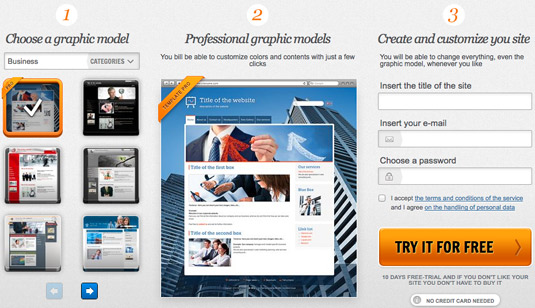 You must enter the following data to create your site:
Site title: this will appear in the header on all your site pages, but can be easily changed at any time.
Site description: enter a short description of the site, its purpose or your activity.  It will appear on all your site pages below the title  and can easily be changed.
Temporary URL: All trial sites are  given a temporary URL, of the yourname.sitonline.com type,  which can be substituted with a definitive  domain (e.g. www.yourname.com) once you have subscribed to a package.
Username: enter a username to access the management panel.
Password: enter a password to access the management panel.
e-mail: enter a valid address to which communications regarding your site will be sent.
Name
Surname
On the same page you must also choose the graphics to be used initially to create your site (you can change them as and when you like by selecting from over 250 models) and finally accept the treatment of personal data and general conditions of service.
By clicking on "Create your site", you can begin to edit and publish your trial site.