By subscribing to the Professional and Premium packages, you have the possibility of using Intranet.
This service enables you to preserve documents and files, or share them with selected visitors.
Since you are the administrator of your own site you can upload files which will be accessible only to those users created by you.
Each user has access only to those folders for which he has received authorization. He cannot upload material but only download it.
To manage this function, enter the control panel and click "Intranet".
There are two tabs at the top of the page: intranet and users.
The first option on the Intranet panel is "Add folder".
Below you can find a table listing all the folders that have been created.
Each folder bears an indication of its name, the number of files contained in it and the last access date. On top of the folder there is a green arrow icon to upload files and another red [X] icon to delete the folder completely.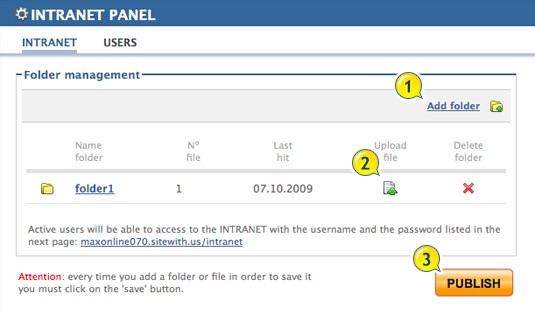 By clicking the add folder link a window appears where you can type the name of the new folder. Press "Add" and the folder will appear in the table below, listed in alphabetical order.  Click the name of a folder to display the files it contains: they can be opened, saved or selected.  Use the "Confirm" link if you want to delete a selected file.
To upload a new file select the green arrow of the folder you want to update and select the contents you want to upload from your hard-disk.
When all files have been uploaded, click Publish.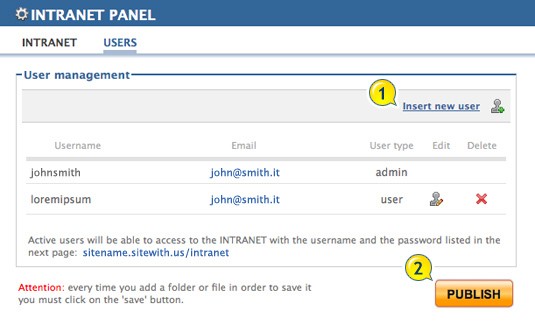 The user tab opens a window with the following options: username, e-mail, type of user (you are the administrator, the others are users), an Edit icon (face + pencil) and a Delete (red [X] ) icon.
1.    To add a user to the Intranet page, click the Add user link at the top of the window.
The fields for creating a new user are: username, password, e-mail, repeat e-mail and authorizations.
"Authorizations" stands for the folders the client is authorized to see and use.
Press "Add User" to see the new user appear in a list together with the already existing ones.
To make any changes, click the pencil symbol corresponding to the user.
A window will appear where you can edit the username, password, e-mail, or folder authorizations.
2.    When all the users have been added, click Publish.
Users authorized by you can access intranet by entering their username and password in the following page: nameofyoursite.sitonline.com/intranet