Click on the [ T ] button of a red box to open the window where you can load and edit all the contents of the box.
The window that appears has an editor, which enables you to work on your text.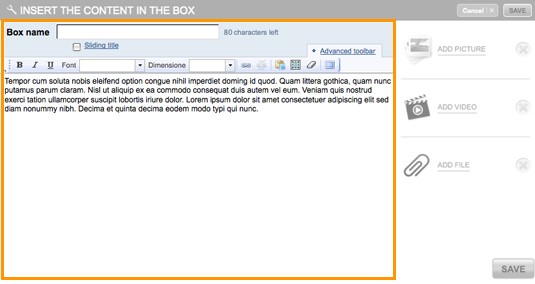 The toolbar above the text editor serves mainly to edit the text (change colour, font type, size), insert or remove text links, paste simple text.
To insert a link you have to select the word (or phrase, etc.) in question and click on the "Insert/edit link" chain icon.   Then select the type of link from the window that appears:  internal link (select the website page from the dropdown menu), external link (type in the URL at which you want to point), e-mail (to open a mail with set address, subject and text).
To copy and paste text (taken for example from a Word file or a web page) use the "paste as simple text" function located on the toolbar.  This way all special formatting that may be present in a Word text or a web page will be cancelled.
Click on the "Advanced toolbar" to select other functions, as for example, insert a table, or display the box's source code.
.