Click on the [ T ] button of a red box to open a window where you can upload and change videos.
After clicking "Add  video" you will be able to upload three different kind of videos (tabs are at the top of the window):
YouTube Video
Your video
Video gallery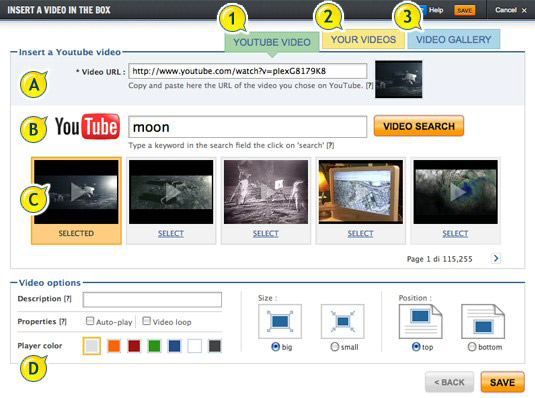 1. YouTube Video:
There are two options to upload contents directly from YouTube.  The first option (A) enables you to copy the address of the YouTube video in a specific field.
The second option (B) enables you, through a search engine, to search for one or more key words in the field beside the YouTube logo.  The most important videos for those key words will be displayed (C).  Click the video image for a preview.  When you have selected the video, click on the "I SELECT THIS" button and then decide on any additional settings(D).
You can even insert any caption you like. The text will be displayed on the page of your website as a description under the published video.
By selecting the Auto-play option, the video will begin automatically when visitors open the page, while by selecting the "Continuous Repeat" option, the video play will play non stop. The video will in fact start again from the beginning after it reached the end.  (both these functions are optional).
You can also change the colour of the video player by selecting a colour that suits your site. Furthermore you can decide on the size and the position of the video in the box
2. Your videos:
In this section you can upload a video directly from your computer.
The size of the file should not exceed 50Mb.
Supported formats are Avi, Divx, Flv, Mov, Mp4, Mpeg, Wmv, Xvid, 3gp.
Once the video has been uploaded you can select the additional options to integrate your video so that it blends better with your site.
3. Video gallery:
Select a video from our gallery.
Once you selected the video, set additional options for the player: for example, captions, properties, colour, size and position.
Remember that the video on the home page is published in the first block (or red box).  If there is already a video in this box, it will be replaced by the one you have just selected.