The page layout feature can be found in the home page and in all the standard ones of your site and allows you to change the position of the 5 red boxes and of all the images uploaded in them.
By clicking on the page layout button of your site panel you will be able to display up to 15 different layouts. Each and every one of them has a differents positions for the boxes and for the images (position and size).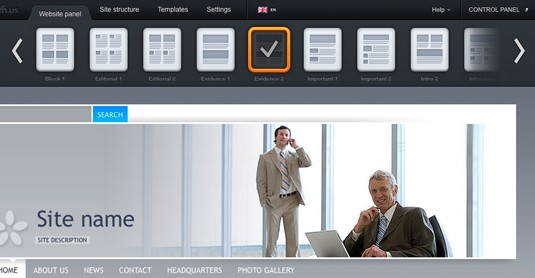 All you have to do is choose the
preview
of the layout you like and this will automatically be applied to the page. If you don't like it, you just have to re-select the previous layout to get back to it.
Thanks to this feature you can customize the pages and give them the layout that suits your needs the most.
The Product layout for example is perfect if you want to display a catalog or create products' pages, while with Evidence you can decide to give more shine to certain contents over others.
In the home page and on the standard pages at the bottom you will be able to find the page settings section. In there you will find 6 more layouts: these ones do modify the postion of the boxes, but they don't automatically fix the pictures as well.